EDIT MAIN
All-State Chorus Selections
October 26, 2018
The Bloomfield Music Department is excited to extend congratulations to Jayden Hochstein for being selected to be a member in the All-State Honor Choir and Alexandra Eisenhauer for being selected as an alternate. These girls have shown great dedication to have received such an honor!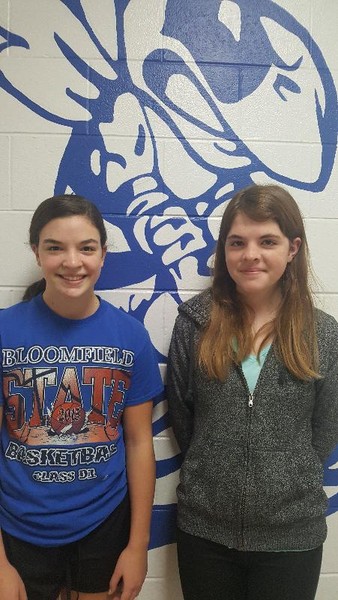 The All-State selection process involves rigorous preparation that leads up to a 4-minute, one shot recording that is sent in to the audition committee. The girls competed against hundreds of students auditioning for a Soprano I spot, of which 54 girls were selected as members and 7 alternates were selected.
The girls were expected to prepare five songs: one in German, one is Spanish and the remaining three in English. The girls experienced complex meters such as 5/8, 3/8, 12/8 and 9/8; time signatures these girls have never faced, let alone at rapid tempos and quick interchanges. In addition, the girls were required to sing accompanied arpeggios and an a cappella scale. Each of these selections are of the highest difficulty and must be prepared to near perfection.
On October 5th at 6:00 AM the final auditions selections were announced and auditions had to be submitted by midnight October 6th. The girls had spent countless hours individually, together, with Mrs. Lange, before, during and after school in preparation for this moment. They subsequently spent every spare moment that day running down the audition selections. By that evening both girls completed their auditions and were left waiting for 12 long days!
We are so proud of these two girls. Their dedication, passion and hard work to achieve this goal is something to be admired. However, to see this level of commitment as Freshman is inspirational. Many do not attain this honor until their Senior year. We look forward to what these two individuals will do for our school, our program and for themselves in the years to come