EDIT MAIN
2019 State FCCLA Convention
April 10, 2019
On Monday April 8 and Tuesday April 9, the Bloomfield FCCLA chapter competed in STAR at the Nebraska FCCLA State Leadership Conference in Lincoln. Thirty-one members made the trip to compete against over 1,125 other FCCLA students. Bloomfield did an outstanding job with twenty-seven competing. Results are as follows:
Andrew Hochstein & Tyler Hanson-Consumer Issues Jr.-Gold, State Champions
Marissa Bruce & Tessa Childress-Family Challenges & Issues Jr. -Silver
Tara Beckmann-Health & Wellness Jr.-Silver
Blake Byerly – Entrepreneurship Jr.- Silver, State Runner-up and National Qualifier
Lily Jessen, Christina Martinson & Carrylee Martinson-Environmental Ambassador Jr.-Silver, 3rdplace
Brooke Pinkelman, Madison Abbenhaus & Olivia Lauck-Focus on Children Jr.-Silver
Tenly Gilsdorf-Recycle and Redesign Jr.-Bronze
Dawson Pedersen-Teach & Train Jr.-Silver, 5th place
Selma Pena, Arleigh Davis & Kaydenn Raygoza-Life Event Planning Jr.-Silver
Alexandra Eisenhauer-Career Investigation Jr.-Gold
Haley Hoile-Career Investigation Sr.-Silver, 3rd place
Selena Graber & Yuset Arellanes-Entrepreneurship Sr.-Silver, 4th place
Kaitlyn Young-Hospitality, Tourism and Recreation-Silver
Carolyn Nagengast-Job Interview-Silver, 5th place
Jaiden Johnson-Interior Design Sr.-Silver, 4th place
Lauren Pinkelman-Life Event Planning -Silver, 3rd place
Kandise Fantroy-Recycle and Redesign Sr.-Silver, 4th place
Grace Kuchar-Say Yes to FCS-Silver, 3rd place
Also congratulations to Alexandra Eisenhauer for being selected to the Nebraska FCCLA PEER Education Team Career Leaders as the Historian. Also a big congratulations to Jaiden Johnson for being named to the Nebraska FCCLA State Officer Team. She will hold the position of Vice-President of Programs.
FCCLA STAR Competition Results
January 25, 2019
FCCLA STAR State Qualifiers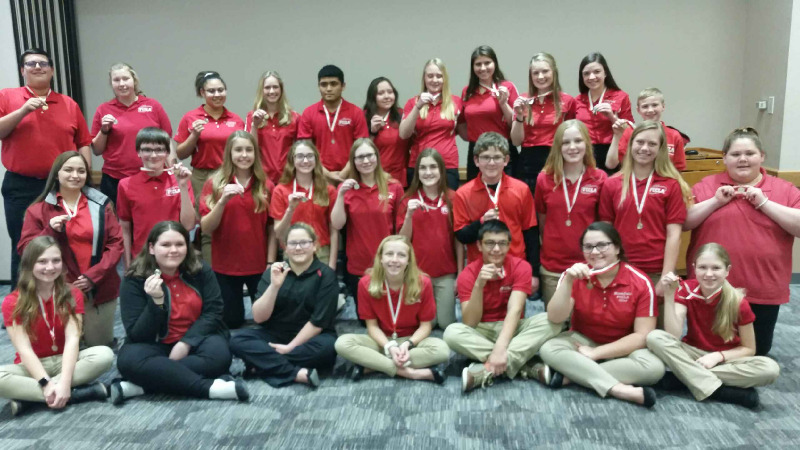 On Wednesday January 23, 2019, the Bloomfield FCCLA chapter traveled to Wayne State College for the District 8 STAR Competition. Thirty-one members made the trip to compete against 9 other schools. Bloomfield did an outstanding job with twenty-eight members qualifying for State FCCLA on April 7-9, 2019. Results are as follows:
Andrew Hochstein & Tyler Hanson-Consumer Issues Jr.-Gold, District Champion & State Qualifier
Marissa Bruce, Elenis Pena & Tessa Childress-Family Challenges & Issues Jr. -Silver, District Runner-Up, State Qualifier
Tara Beckmann-Health & Wellness Jr.-Silver, District-Runner Up & State Qualifier
Blake Byerly – Entrepreneurship Jr.- Gold, District Champion & State Qualifier
Lily Jessen, Christina Martinson Carrylee Martinson-Environmental Ambassador Jr.-Silver, District Champion & State Qualifier
Brooke Pinkelman, Madison Abbenhaus & Olivia Lauck-Focus on Children Jr.-Silver, District Chamption & State Qualifier
Tenly Gilsdorf-Recycle and Redesign Jr.-Silver, District Champion, State Qualifier
Dawson Pedersen-Teach & Train Jr.-Silver, District Champion, State Qualifier
Selma Pena, Arleigh Davis & Kaydenn Raygoza-Life Event Planning Jr.-Gold, District Champion & State Qualifier
Isaac Alvarado-Life Event Planning Jr. -Silver, District Runner-Up
Alexandra Eisenhauer-Career Investigation Jr.-Gold, District Champion & State Qualifier
Haley Hoile-Career Investigation Sr.-Silver, District Champion, State Qualifier
Selena Graber & Yuset Arellanes-Entrepreneurship Sr.-Silver, District Champion, State Qualifier
Kaitlyn Young-Hospitality, Tourism and Recreation-Silver, District Runner-Up, State Qualifier
Carolyn Nagengast-Job Interview-Gold, District Champion, State Qualifier
Colton Gieselman & Adrianna Raygoza-Illustrated Talk Sr.-Silver
Jaiden Johnson-Interior Design Sr.-Silver, District Champion, State Qualifier
Lauren Pinkelman-Life Event Planning -Gold, District Runner-Up, State Qualifier
Kandise Fantroy-Recycle and Redesign Sr.-Silver, District Runner-Up, State Qualifier
Grace Kuchar-Say Yes to FCS-Silver, District Champion, State Qualifie