7th grade supplies list.


Follow this link for the updated 2021-2022 Junior/Senior High School Handbook.
https://5il.co/9b66


2021 Youth Golf Lessons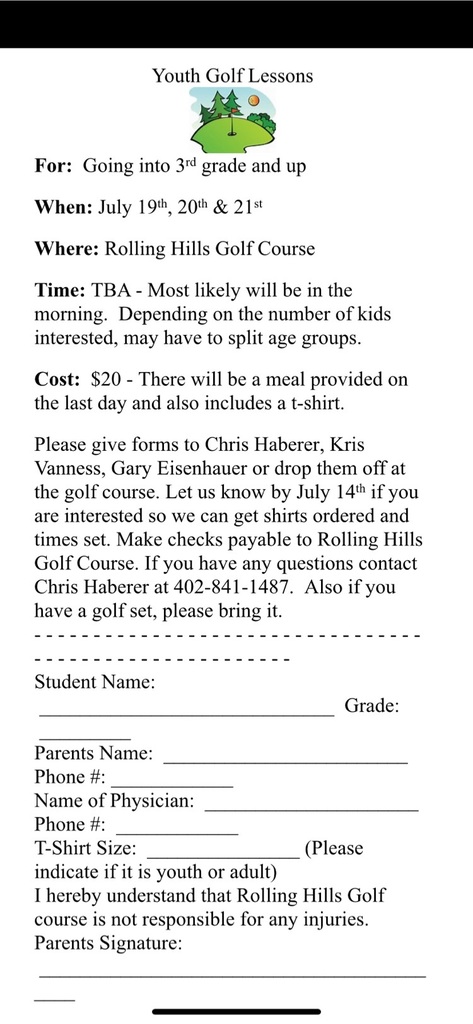 Reminder to all summer school students who have been contacted, we are excited to see you on Thursday, July 1, 2021 at your designated time. If you are unsure of you time, please call the school at 402-373-4985. Thanks

Bloomfield's cheerleaders are selling Fan-Cloth as a fundraiser! Contact a cheerleader if you need assistance or follow this link to order!
https://fancloth.shop/GTQFJ
2021-2022 Cheerleaders Lily Jessen Jenna Loeske Olivia Lauck Arleigh Davis Hannah Kleinschmidt Taylor Kleinschmidt Tenly Gilsdorf Ava McFarland Molly Miller

Progress reports for junior high and high school may be picked up at the high school office from 8:00 AM-4:00 PM Monday through Friday. Students or parents may pick them up. They will not be mailed to the households. Have a great summer!




Here is the 2021 summer conditioning schedule for Bloomfield/Wausa Cross Country.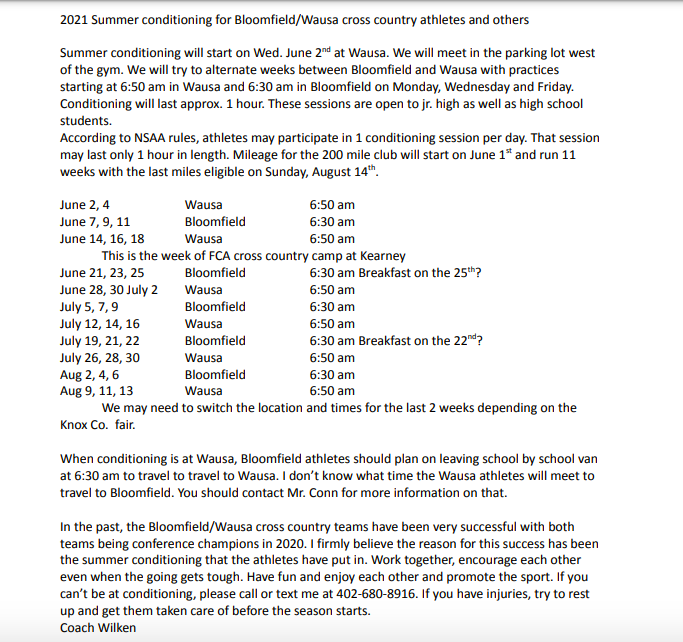 BCS Bees. This is a reminder that there will be a Music Booster meeting in the High School Music Room at 7:00 PM tonight. All are welcome to join.

Communicating the Need for Vaccines In recent days, physicians have begun to receive doses of COVID-19 vaccines to provide to their patients. Below is a resource that can be helpful for you as we assist medical providers in communicating the need for vaccines with our students age 12 and above. Pediatricians are some of the most trusted physicians families have and hearing directly from them is important as we further respond to COVID-19. Feel free to share this information if it is helpful to you and your community. Please see the following video from Dr. Mel St. Germain, Vice-President and Medical Director for Children's Hospital and Medical Center Omaha:
https://www.youtube.com/watch?v=G1V8ZAIZ_o8
In addition to the video, an FAQ for parents can be found here:
https://www.childrensomaha.org/wp-content/uploads/2021/05/COVID-VaccineFAQ.pdf

Reminder: All student fees and fines must be paid prior to student check out. Students with outstanding fines and fees will be scheduled for school attendance tomorrow. Thank you! BCS

The FFA Picnic has been moved to the new gym @ 7:00-8:30 pm. Pork Sandwiches will be served. Thank you!

The link below contains information and instructions for purchasing tickets to the State Track & Field Championships. NOTE—Tickets will not be sold on location. Tickets must be purchased online through GoFan
https://gofan.co/app/school/NSAA


Semester Test Final Schedule 2021.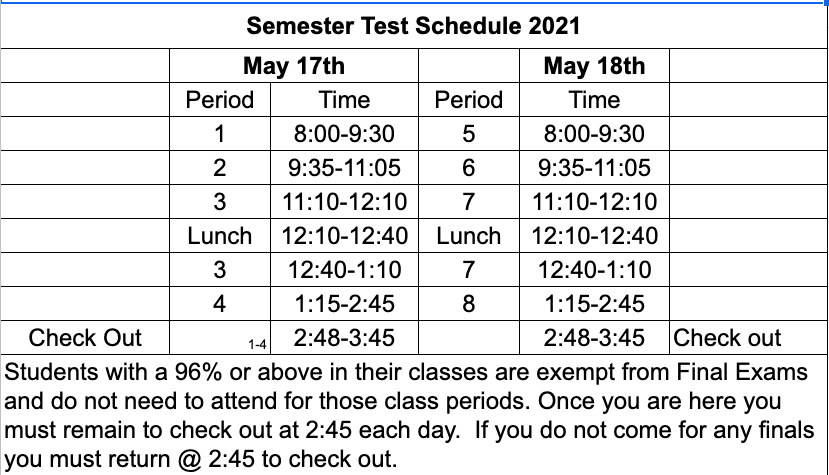 Choosing Safer Activities.