Parents please fill out the annual student health and emergency contact paper that was sent home with each student. It be accessed through the link below. This form needs to be filled out by next Friday, Sept. 30, 2022.
https://forms.gle/7U5oaB5KvZYWtXY86
*If you have already filled this out, disregard this post. Thank you!

There is still time to meet with your child's teacher tonight at BHS
The Crofton volleyball parents will be serving walking tacos ($5.00) and bars ($1.00) on Monday at the Knox County Volleyball Tournament.
2022 Knox County Volleyball Tournament Crofton High School Monday, October 10, 2022 – 4:30/5:30/6:30 & 7:30 p.m. Tuesday, October 11, 2022 – 5:30/6:30 & 7:30 p.m.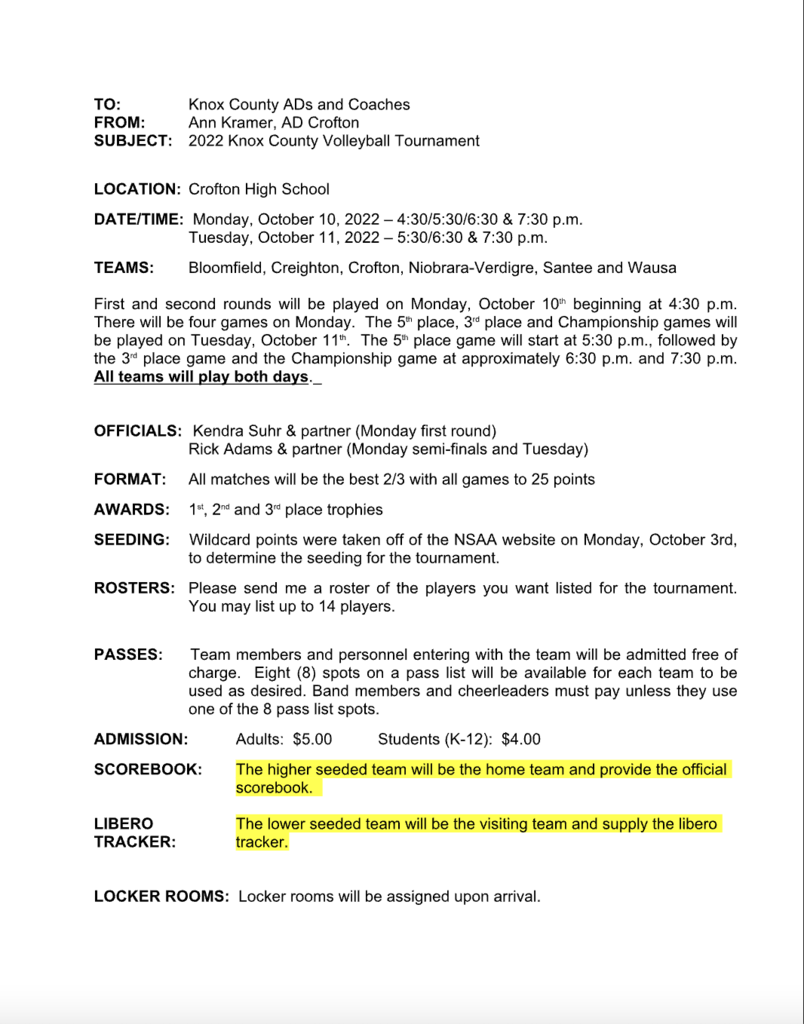 Bloomfield FFA will be cancelling the FFA tailgate this Friday October 7th due to the impending weather. Thank you.
The Knox County VB Tournament information.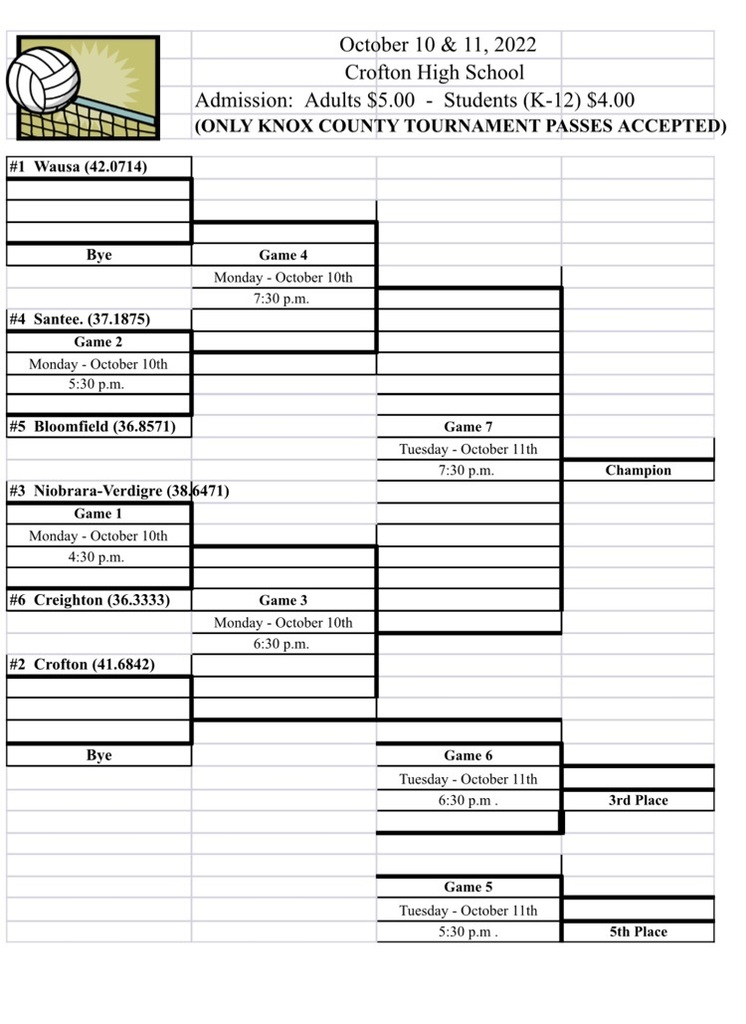 Hello Bloomfield! Yearbook wants to generate some buzz. Our cover is complete and it's national yearbook week! Yearbooks are $36 for this week only. (Please use the coupon code 4everBees.) After this week, yearbooks will be $38 per book until Christmas. After that, they are $40.

Hello Bloomfield! One Act looks forward to seeing you in one month. We cannot believe time is going so quickly! That said, we need your help securing a few props for our show. We are currently looking for a wireless landline phone (which can be returned) and a table clock (which can be returned) if you have one. This is all we are looking for at the moment. Costumes are well underway. We look forward to haunting you with Handel.

Bees 56- Bulldogs 12 4:29

Bees 56-6 end of 3

Bees 48-0 1:01

Bees 42-0 2:12 2nd quarter

Bees take an eary 30-0 lead after a long TD run by Willly Ziegler
On Tuesday, October 4th the Bloomfield JH and Varsity Volleyball teams will play in a 2 Triangulars at Boyd County 3:00 Bloomfield JH A team vs Boyd County JH A team 4:00 Bloomfield JH A team vs Santee JH A team 6:00 Bloomfield Varsity vs Boyd County 7:00 Bloomfield Varsity vs Santee Go Queen Bees!!!

Reminder: today is the last day to order Music Fan cloth apparel. Also, there is a Music Booster Meeting tonight at 6:00 in the Music Room. Thank you! Mrs. Lange
On Monday, Oct. 10th, the Bloomfield/Wausa elementary cross country meet will be held at the Knox Co. Fairgrounds. The meet will start at approximately 4:15. The meet is open to all 1st-6th grade students attending either Bloomfield or Wausa community schools or are home schooled in those respective districts. Three races will be held for both boys and girls. There is no entry fee but runners do need to have an entry form filled out and signed by a parent/guardian. Entry forms are available from either the school secretary's office or by contacting Duane Wilken (402-373-4432). All finishers will receive either a medal or a ribbon.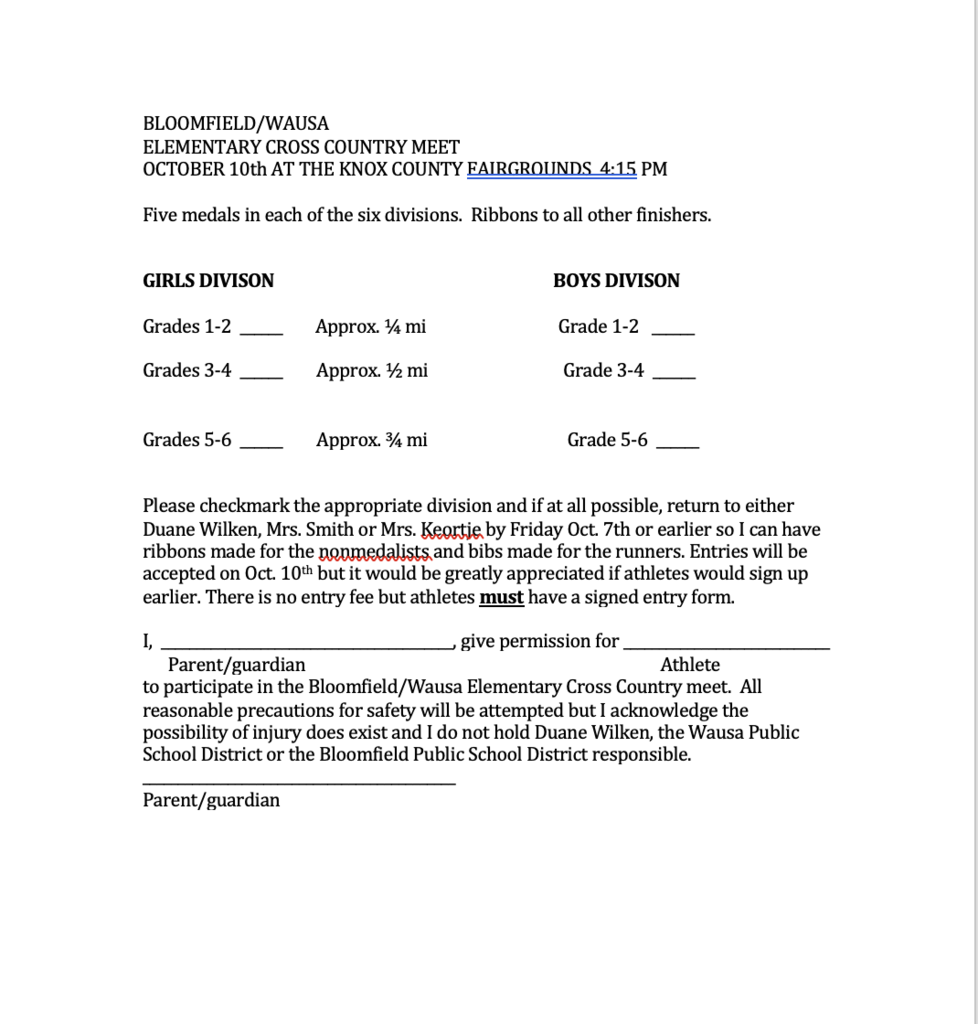 Bloomfield community members and parents; The school wants to remind everyone to be proactive in ensuring that your students engage in good digital citizenship involving cell phones and mobile devices. As parents, we encourage you to speak to your children about the proper, ethical, and legal use of their devices. Among other potentially negative consequences created by misusing technology and social media, misconduct on devices and social media can subject your students to school discipline (up to and including expulsion) and potential criminal consequences. As one example, if anyone (including students) possesses any photo depicting a nude image of a minor (including, but not limited to on a smartphone), then that person can be subject to serious legal consequences, including criminal consequences. Of course, this is just one example of inappropriate and illegal use of technology and social media. Please discuss with your children your expectations for using technology, the internet, and social media responsibly, your expectations about what is right and what is wrong for your children when they communicate with others (including through technology), and the serious, real-life consequences that can result from misusing technology and social media. We appreciate the important role that you play in ensuring that your students use technology responsibly and are positive influences on our school community. If you have any questions or need resources regarding these issues, please contact Mr. Messersmith or Mr. Alexander at (402) 373 4800 for more information.
Bloomfield Community, online ordering is available until September 30th for your child's school pictures. You will need to log in with an email and access code/password. This is located on the original envelope that was sent home with your child. If you are unable to find the access code, please contact Digital Solutions. 402) 844-0004.
https://AccessMyEvent.com/WSNY37
The JV Football game vs Winside on Monday, September 26 has been canceled on the request of Winside. The JH Volleyball and Football games will be played as scheduled.